Rise Up Cafe On The Go
Our Team Members Love to Cater Events!
---
---
Business meeting? School function? Wedding? Birthday? Neighborhood block party?
Have a look at our Catering Menu, then just let us know what you need to make your event the best ever. You can also complete your catering order online here.
We will load up Marvelous Miss Maxine (our hip tricycle) with ice cream sandwiches, coffee, drinks, and snacks, and our Mobile Squad will bring it all right to you.
You'll love our specially delivered Rise Up Cafe on the Go!
And you'll love meeting Miss Maxine and our incredible Rise Up Cafe team members.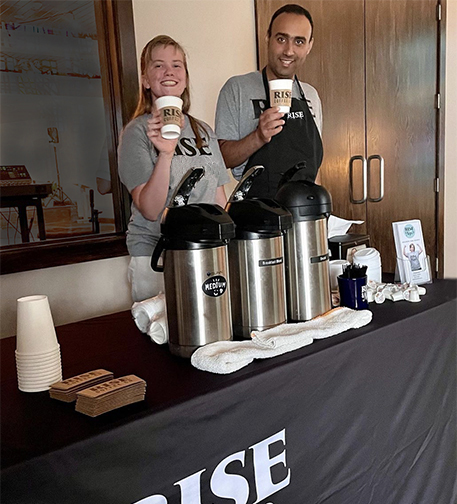 Meet Marvelous Miss Maxine
Our Rise Up Cafe Trike
---
---
Our hip tricycle with her cool cold box on the front is a symbol of fun in the sun, and she's rigged up for Rise Up Cafe on the go!
Look for Maxine around town (flag her down for a treat), and be sure to give our Rise Up Cafe Delivery Squad a wave!
Rent Maxine
For Your Event
---
---
Marvelous Miss Maxine is available to rent for events where she'll be tricked out with artisan house-made ice cream, delicious coffee, and all sorts of other treats. Staffed by our amazing Rise Up Cafe team members, she'll be the coolest-ever dessert and "sober bar" for your guests. Contact us for more details.
Miss Maxine